Nested Applications
VIE23 HL TABS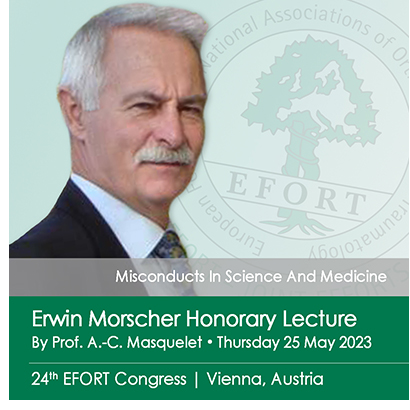 Thursday 25 May 2023 | 12:15 – 12:45 | Auditorium: Vienna
Misconducts In Science And Medicine
By Prof. Alain-Charles Masquelet | France
"I think that there is an important subject that currently mobilises public opinion: Fraud in the scientific and medical fields. I wanted to make it the central theme of my session, giving me also the opportunity to give some guidance to the younger healthcare professionals."

Last year's programme proposed to tackle the issue of Modern Patient needs, Integrity and Trust.
With "Misconducts In Science And Medicine" Professor Alain-Charles Masquelet offers us the perfect transition and EFORT is proud to give him the floor for this year's Erwin Morscher Honorary Lecture.
There is nothing new in medical ethics; concerns for our patients' welfare and the proper behaviour of those who treat them date back 4,000 years to the Code of Hammurabi. It is twenty-five centuries since Hippocrates exhorted us "to abstain from doing harm", later interpreted as "First do no harm". There are archives of literature on medical ethics in general, but remarkably little on surgical and even less on orthopaedic ethics.
The primary aim of all doctors should be to care for patients to the best of their ability. We must recognise that each patient is unique with widely varying medical, psychological, social and mental characteristics which affect understanding and decision-making.
Within what Professor Masquelet refers to as the "shared medical decision", and perhaps even "informed consent", the transfer of knowledge and learning remains key, despite the current disruptive period. The objective is to reach improved patient healthcare outcomes, common understanding between the patient and doctor and also an open exchange among peers and experts.
In the years, the centuries before, there was an absolute stable body of knowledge that was transmitted by masters, teachers, either verbally or in writing through books. As a matter of fact, knowledge was anchored in sustainable stability. Today, learning approaches & practice are in full swing and perhaps, the way knowledge transfer occurs could be revisited.
Training was done by osmosis and fostered exemplarity, role models. However, not always have academic services offered role models that were advisable. This osmosis, with its high exposure to mentorship, has been changed today to better fit the training needs of residents & interns: a lot of emphasis is put on simulation, not only technical, but also in role-playing. Within this reformatted mentorship model, there is sharing of knowledge that goes in both directions, with a certain circularity in the teaching process.
We may predict a certain qualitative leap applied to the medical decision, which in the in the end is behavioural in the relationship between the patient and physician.
"I guess this is what I intend, when advising the younger generation to capitalize on medical ethics based on solid transfer of knowledge and good practice."


Sources
Interviews "SOFCOT Officiel" 2018 & 2019
Ethical orthopaedics for EFORT ("[...] set standards which reassure our patients and politicians that we uphold those ethical principles which should protect the trusting relationship between patient and doctor.")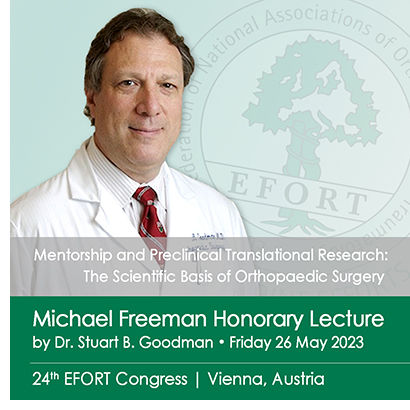 Friday 26 May 2023 | 12:15 – 12:45 | Auditorium: Vienna
Mentorship and Preclinical Translational Research: The Scientific Basis of Orthopaedic Surgery | EFORT e-Science Webcast
By Dr. Stuart B. Goodman MD PhD
Departments of Orthopaedic Surgery and Bioengineering | Stanford University | California | USA
Stuart B. Goodman MD PhD will be presenting this year's Michael Freeman Honorary Lecture at the 24th EFORT Annual Congress Vienna 2023 with the session titled "Mentorship and Preclinical Translational Research: The Scientific Basis of Orthopaedic Surgery".
The scientific basis of orthopaedic surgery and the treatment of musculoskeletal disorders in general rest on a foundation of 3 disciplines: biology, biomechanics, and biomaterials. However, these areas of academic pursuit are insufficient without the close mentorship of individuals who function as role models for the aspiring surgeon. These role models provide a stimulating, inquisitive and supportive environment that fosters more questions than answers and engenders a lifelong pursuit of excellence and continued learning. All of us recognise that these individuals have shaped our academic and personal lives. Professor Michael Freeman was such a role model. Today we honour this great individual, who continues to have a profound influence on orthopaedics.
At the University of Toronto, Lund University, and at academic centers around the world, he was fortunate to have very productive interactions with orthopaedic surgeons, members of other medical subspecialties, scientists, trainees, and patients who have helped shape my career as a surgeon-scientist. Furthermore, to practice orthopaedic surgery in an evidence based, logical manner, initially, one must have a clear grasp of the fundamental scientific principles of our specialty. Thus, the pursuit of basic and translational research has been a passion for most of my career.
Inflammation is one such area of focus. All species respond to potentially injurious stimuli by means of an immediate, pre-programmed, non-specific biological reaction that is regulated by the innate immune system. This response maintains tissue homeostasis by eradicating adverse stimuli to preserve and restore the structural and biological integrity of the individual. We have studied acute and chronic inflammation, and the foreign body response as it relates to osseointegration of orthopaedic implants and engineering of musculoskeletal tissues. Acute inflammation is necessary for dealing with the immediate insult and the initiation of tissue repair; however persistent dysregulated inflammation is deleterious and leads to continued cell destruction and tissue malfunction. These processes can now be modulated by the judicious application of biological, mechanical and biomaterial cues and other interventions. Continued crosstalk between cells of the mesenchymal and hematopoietic lineages is essential to musculoskeletal tissue repair. As new experimental techniques such as 3D printing, artificial intelligence, mass cytometry, transcriptome and secretome analysis become more commonplace, novel devices, biologics and other interventions will enhance our understanding of biological interfaces and tissue engineering and repair to enhance patient outcomes. Furthermore, translational interventions in orthopaedics will provide a platform and paradigm for repair of various tissues in different organ systems throughout the body.

Biography Stuart B. Goodman MD MSc PhD FRCSC FACS FBSE FIOR FORS
Stuart B. Goodman is the Robert L. and Mary Ellenburg Professor of Surgery, and Professor with Tenure in the Department of Orthopaedic Surgery at Stanford University. He has a courtesy appointment in the Department of Bioengineering, and is a Fellow of the Institute of Chemistry, Engineering and Medicine for Human Health (ChEM-H) at Stanford University. He was Chief of Orthopaedic Surgery at Stanford University from 1994-2002.
Dr. Goodman received his BSc, MD and MSc (Institute of Medical Science) from the University of Toronto, and his PhD in Orthopedic Medical Science from Lund University in Sweden. He is a Fellow of the Royal College of Surgeons (Canada), the American Academy of Orthopaedic Surgeons and the American College of Surgeons. Dr. Goodman's clinical practice concentrates on adult reconstructive surgery. His clinical research interests center on the outcome of surgery for primary and revision total joint replacement, juvenile arthritis, and osteonecrosis of the hip and knee. His basic science interests center on biocompatibility of orthopaedic implants, inflammation, and musculoskeletal tissue regeneration and repair.
Dr. Goodman is a member of numerous academic organisations including former Chairman of the AAOS Biological Implants Committee, and a former member of the AAOS Biomedical Engineering Committee. He is a member of the Hip Society (American, European, and International), Knee Society, AAHKS, and ARCO, a consultant to the Orthopaedic and Rehabilitation Devices Advisory Panel of the FDA, and former vice-chairman of the Musculoskeletal Tissue Engineering study section at NIH. Dr. Goodman is on the editorial board of the Journal of Orthopaedic Research (Associate Editor), Clinical Orthopaedics (Deputy Editor), Biomaterials (Associate Editor), Journal of Arthroplasty, Journal of Biomedical Materials Research, Bone and Joint Research, Journal of Orthopaedic Translation, and other journals, and reviews manuscripts in the fields of orthopaedic surgery, arthritis, bioengineering and biomaterials.
Dr. Goodman has published over 600 peer-reviewed manuscripts in medical and bioengineering journals. Dr. Goodman and co-workers have received awards for their research from the Society for Biomaterials, Orthopaedic Research Society, the American Orthopaedic Association, Western Orthopaedic Association, and the Association of Bone and Joint Surgeons. Dr. Goodman was awarded the Clemson Award for Basic Research from the Society For Biomaterials in May 2000. He was the President of the Society For Biomaterials (2001-2) and served on the Board of Directors of the Orthopaedic Research Society. Dr. Goodman served as Co-Chair for the 1995, 2000 and 2007 NIH/AAOS-sponsored workshops on Implant Wear. Dr. Goodman was recognised as a Fellow, Biomaterials Science and Engineering (FBSE) by the International Union of Societies, Biomaterials Science and Engineering in May 2004, a Fellow of the Japanese Society of the Promotion of Science in 2011, a Fellow of the American Institute of Medical and Biological Engineers in 2012, a Fellow of the International Combined Orthopaedic Research Societies in 2016, and a Fellow of the Orthopaedic Research Society in 2021. He is a council member of the NIH National Institute of Arthritis, Musculoskeletal and Skin Diseases since 2021.