ERWIN MORSCHER HONORARY LECTURE VEC 2020
REPRODUCE THE DIVERSITY IN TREATMENT OF ANTERIOR SHOULDER INSTABILITY
By Professor GILLES WALCH | France | Wednesday 28 October 2020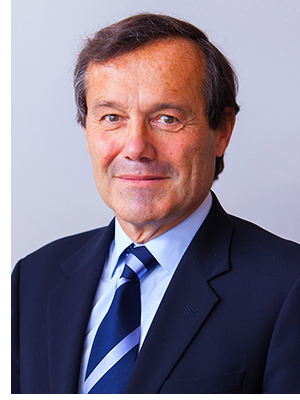 Gilles Walch, MD, a great specialist in surgery and arthroscopy of the shoulder and pioneer of numerous concepts for treatment of the most common shoulder conditions, is among the most well-known orthopaedic surgeons in France.
EFORT is therefore pleased to welcome Walch to contribute to the 2020 scientific program by giving the Erwin Morscher Honorary Lecture on Wednesday 28 Ocotber 2020. Indeed, for each edition of our annual meetings, one of the most important components is the presence of an outstanding orthopaedic surgeon with an international reputation who assembles the biggest audience of all the scientific sessions for the presentation of his or her medical career highlights and extensive experience within a given specialty.
Walch, a native of Lyon, France who currently practices at the Centre Orthopédique Santy, will share with the orthopaedics and trauma community onsite his broad knowledge of shoulder instability, rupture of the rotator cuff and shoulder arthroplasty, which serve as the basis of his daily medical practice.
When he graduated from Lyon orthopaedic school, Walch intended to train in knee surgery and travelled to the United States under the advice of his mentor, Prof. Pierre Chambat. However, after Walch's numerous publications on patellofemoral instability and natural history of cruciate ligament rupture, his trip to the United States made him change his medical interests to shoulder disorders, a topic which became his main focus early on in his career. Indeed, for more than 20 years now, Walch has worked exclusively on the shoulder, despite that during this time shoulder specialization was limited in Europe.
Once back in Lyon, Walch gradually established multidisciplinary teams with rheumatologists, radiologists, physiotherapists and rehabilitation practitioners to focus on shoulder surgery, improving the understanding and treatment of various common disorders. These orthopaedic working groups were initiated at the Sainte-Anne Clinic and later moved to the new Paul-Santy Center, which was established by Walch in collaboration with his former mentor, Prof. Chambat. Today, this center has 15 orthopaedic surgeons specialized in hip, knee, spine and shoulder, as well as 11 sports doctors.
From 1987 to 1995, Walch was the general secretary of the European Society for Surgery of the Shoulder and Elbow and was its president from 2005 to 2007. He was elected president of the French Society of Orthopaedic Surgery and Traumatology for 2014 to 2015. He was named an honorary member of several European orthopaedic societies, including the national societies of Switzerland, Portugal, Italy, France and Greece. He is also member of eight scientific societies and has been invited as a visiting professor at many university hospitals worldwide.
Walch has published more than 300 articles in national and international peer-reviewed journals, has written a considerable number of book chapters and edited four books on the topic of shoulder arthroplasty. Moreover, he has been invited to be a lecturer at more than 500 conferences worldwide.
Unlike some highly specialized colleagues, this 67-year-old surgeon is in charge of consultation and treatment of both young athletes and patients aged older than 50 years, for an extremely diverse array of orthopaedic conditions ranging from dislocations and tendinitis to fractures, surgical treatment for rotator cuff repair, shoulder arthroplasty and arthroscopic approaches in the shoulder. Within the sports world, Walch mainly treats handball, tennis, rugby, volleyball and football players.
Walch has contributed to the design of several shoulder prostheses and developed the medical standards related to internal impingement, arthroscopic tenotomy of the biceps in massive rotator cuff tear (MRCT), hidden lesions of the subscapularis and musculotendinous rupture of the infraspinatus. His contribution to the evolution of the Latarjet procedure is noteworthy, as well as his involvement in the classification of the arthritic glenoid and the understanding of the role of the teres minor in MRCT.
Walch will present his achievements in the study of anterior shoulder instability and the medical aspects related to it by focusing on diversity of treatment for this pathology, which limits overhead arm motion and external rotation, and, as a consequence, compromises many physical activities.
The anatomy of the glenohumeral joint itself is linked to an inherent instability that can result in traumatic anterior shoulder dislocation. The shoulder is the most commonly dislocated joint in the body with the worst natural history of any injury in children and adolescents and a recurrence rate as high as 70%. Patient history analysis and complete physical examination are critical for diagnosis of anterior shoulder instability, but further advanced imaging, CT or MRI may be necessary for appropriate evaluation of associated glenohumeral pathologies. Treatment possibilities include both nonoperative approaches and different surgical options, such as open anterior capsulolabral reconstruction, and various open and arthroscopic techniques. Individualized medical management based on the patient's injury specificities will likely lead to the most successful outcome.
Take this opportunity to learn about the medical evolution in the handling of anterior shoulder instability and diversity of treatment options for this pathology during the Erwin Morscher Honorary Lecture scheduled for the upcoming Virtual EFORT Congress.